House of Art and Literature
KOHÓ
Coworking House Pécs – in the heart of downtown Pécs
In the center of Pécs, at Széchenyi Square, KOHO hosts a community of freelancers, startups, and self-employed entrepreneurs, where you can work, hold business meetings or arrange events undisturbed.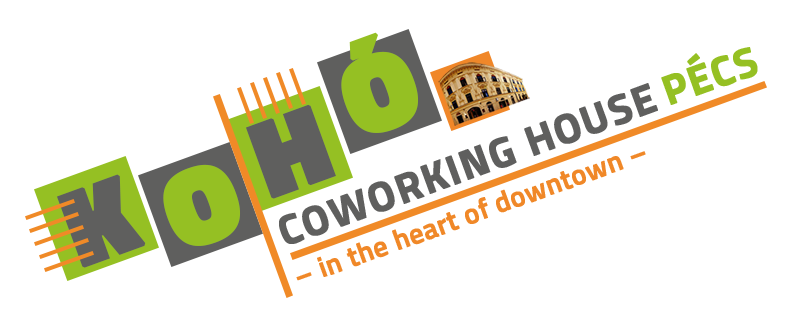 The former KOHÓ welcomes old and new visitors of the community office in an inspiring environment with numerous functions.
This venue is ideal for you if:
you don't want to rent an office, but you need an ideal place where you can work,
you are bored of the home office, but the cafés are too noisy,
you want to work quietly, while you want need company as well.
In the community office, you can work independently while sharing a place with other people. You could even get to know each other and exchange experiences while drinking coffee in the kitchen. We especially recommend it to telecommuters, digital nomads and former KOHO fans.

With us, you will find a cosy, welcoming environment and a new workplace at the same time! After arrival, you can start working immediately, we will take care of everything else!
What we provide:
Reception: our colleague supports you in case of questions or difficulties so that everything goes smoothly; and if necessary, he or she will even receive your parcel delivered
A desk, Wi-Fi and electricity for working, all in a cozy, heated club room - so you can even save on your utility bill in a pleasant environment
Printing facility
Free coffee and water, as well as refrigerator and microwave use in the kitchen
Clean, orderly environment, cultured washrooms
Inspiration: the "spiritual melting pot" promotes creativity, where fresh thoughts can meet and new ideas can be formed
Ticket prices:
| | |
| --- | --- |
| 4-hour ticket | 2.500 Ft |
| Daily ticket | 4.000 Ft |
| Monthly season ticket | 33.000 Ft |
| 5-occasion ticket * | 13.000 Ft |
| 10-occasion ticket ** | 20.000 Ft |
*Must be used within one month
**Must be used during the semester concerned
Meeting room: HUF 3500 /hour
For a unique offer, feel free to contact us at info@pmh.hu.
For the time being, tickets can be purchased at the venue: House of Arts and Literature, 7-8 Széchenyi tér Pécs.

Opening hours:
Monday-Friday 9.00 a.m-5.00 p.m.